In healthcare sector, it's important to keep track of your assets efficiently. From essential medical equipment's to linens, you should know what you have, where it is placed, and when you need it how you will get it. You can only maintain assets seamlessly with Healthcare Asset Management system!
Effective asset management is crucial in healthcare organizations. This will ensure your patients receive best care. As we are aware that the condition of patient's can be change in seconds. So, the health professionals are able to find all the significant medical equipment's quickly!
There are many advantages of using healthcare asset management system for medical facilities. Below, we are mentioning some:
5 Advantages of Healthcare Asset Management System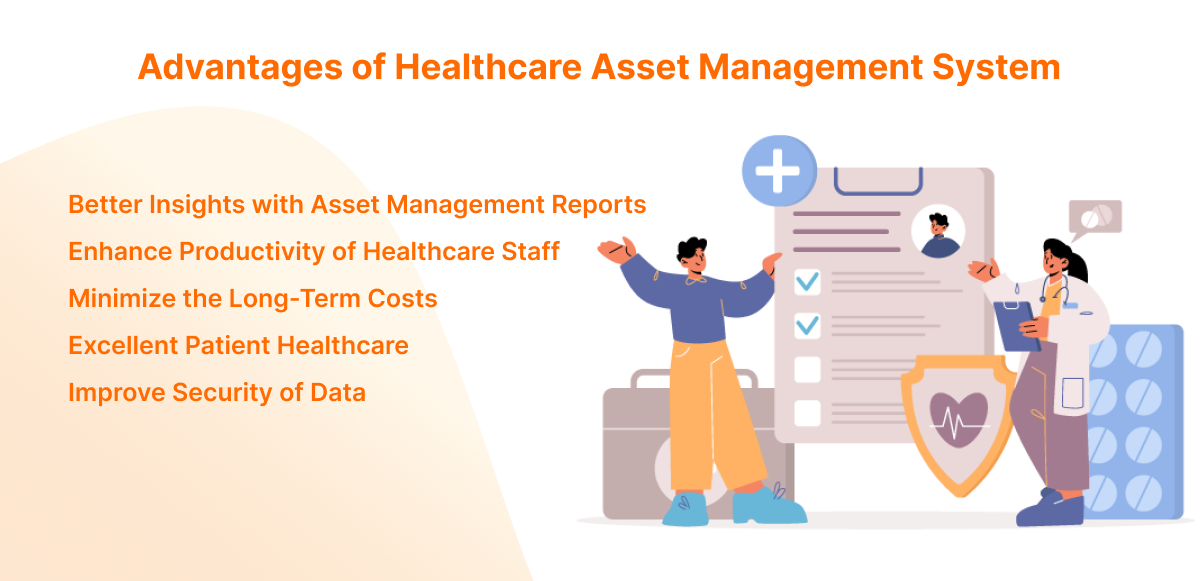 Excellent Patient Healthcare
Healthcare operation has one aim to deliver excellent care to all patients. Sometimes they are not able to provide due to some reasons. The most common reason is that healthcare professionals are often busy with other tasks such as tracking of missing assets and handle unplanned equipment maintenance.
These problems will impact directly on your patient care. It includes lack of beds for patients and prolonging time of waiting. But with better asset visibility, you can avoid these issues. An asset management system will help you to know where the assets are and can be used by professionals when required.
Enhance Productivity of Healthcare Staff
It is a fact that nurses spend an hour looking for medical equipment's on their shift. Which means your nurses are being less productive in taking care of their patients. But with the help of asset management system, the healthcare staff can find equipment in no time.
With the help of asset management system, it will reduce the time spending by your staff to locate the tools they require. As a result, it will increase the productivity of your staff.
Minimize the Long-Term Costs
Asset management software tools are well-known for minimizing the expenditures. It doesn't matter whether its operating costs, repair costs, or costs related with lost items. This system will help accounts team to analyse data and also improve forecasts for budgeting.
You can coordinate work orders and inventory easily with the help of detailed maintenance planning. With economies of scale and bulk buying opportunities, it will help you to save the cost.
When it comes to asset loss prevention, you can see reduction in costs. There are some asset management systems that give you asset theft alerts too. This will minimize the risk of theft and replacing stolen assets costs.
Better Insights with Asset Management Reports
Asset management system allow you to analyse, monitor, and report on your significant healthcare assets. Having a detailed asset reporting makes easier for you to track equipment data. These reports will help you to make informed and right decisions related to asset lifecycles, maintenance, and regulations.
If you are still using notepads to keep your asset report, this information is good as what you remember to write down. So, it's better to use an effective asset management system.
Improve Security of Data
Using an asset management system will help you to secure the data and investments made by the hospitals in medical equipment's. This system will keep track of medical equipment's with serial number, location, and model number.
Hospitals use this information to make database of all hospital assets in which maintenance and repair history included. Implementing Healthcare Asset Management system will strengthen your security measures and prevent cyber-attacks. You can customize the user rights and provide limited access to a hospital crucial database of all assets.
Conclusion
Tracking inventory through spreadsheets is a time-consuming process for people which also increase human errors. This is where an effective asset management system comes in handy.
The right solution is essential to maintain and manage your crucial healthcare assets. When you select the right asset management system, it will protect your assets from risks and reduce the costs while increasing operational efficiencies.
There are many companies available that provide asset management solution. But finding a reliable one is challenging task. Genic Assets provide the best solution for asset management that help you to acquire real-time information about assets. You can get in engage with our team to schedule your free Asset Management Software demo!