The IT Asset Management Software market has experienced steady growth in recent years and is projected to continue growing from 2023 to 2030. This growth is mainly attributed to the rising demand for advanced technology to enhance organisational productivity and meet business needs.
Furthermore, the market expansion is expected to be fueled by cost savings from reallocating unused resources and optimising software licensing. The Global IT Asset Management System Market report offers a thorough assessment of important segments, trends, drivers, restraints, competitive landscape, and factors that significantly impact the market.
Market Size and Growth
In 2023, the global IT asset management market was estimated to be worth $1.3 billion; by 2031, it is expected to be worth $3.5 billion. From 2022 to 2031, the market will grow at a compound annual growth rate (CAGR) of 11.1%. The increased need for IT asset management solutions across numerous industries is the reason for this expansion.
Key Feature of IT Asset Management System
Asset identification and inventory management, license management, contract management, software metering and optimisation, asset tracking and auditing, financial management, reporting, and analytics are some of the key features of an IT Asset Management System. These systems offer a centralised repository of asset data, enabling businesses to get better insight into their IT infrastructure and make knowledgeable decisions about asset purchase, maintenance, and retirement.
Read More – Manage Accurately & Efficiently of Assets with Asset Management Software
The market for IT Asset Management Systems includes many companies that provide various products, including standalone IT asset management tools and integrated suites within larger IT service management (ITSM) or IT operations management (ITOM) platforms.
IT Asset Management System is used by:
Enterprises
Corporate
Education
Government
Third-party planners
Others
Global IT Asset Management System Market Overview
The demand for IT Asset Management Systems has increased significantly over the past few years and is expected to continue. Organisations use IT Asset Management Systems more frequently to effectively manage their IT assets and streamline their IT processes. The market is characterised by the availability of various vendors who provide a broad range of solutions to meet the needs of varied customers.
Organisations have increasing IT assets to manage due to the spread of technology and digital transformation projects. The demand for these solutions is being driven by IT Asset Management Systems, which lets businesses better manage and have insight into their complex IT systems.
Factors Driving the Growth of IT Asset Management System Market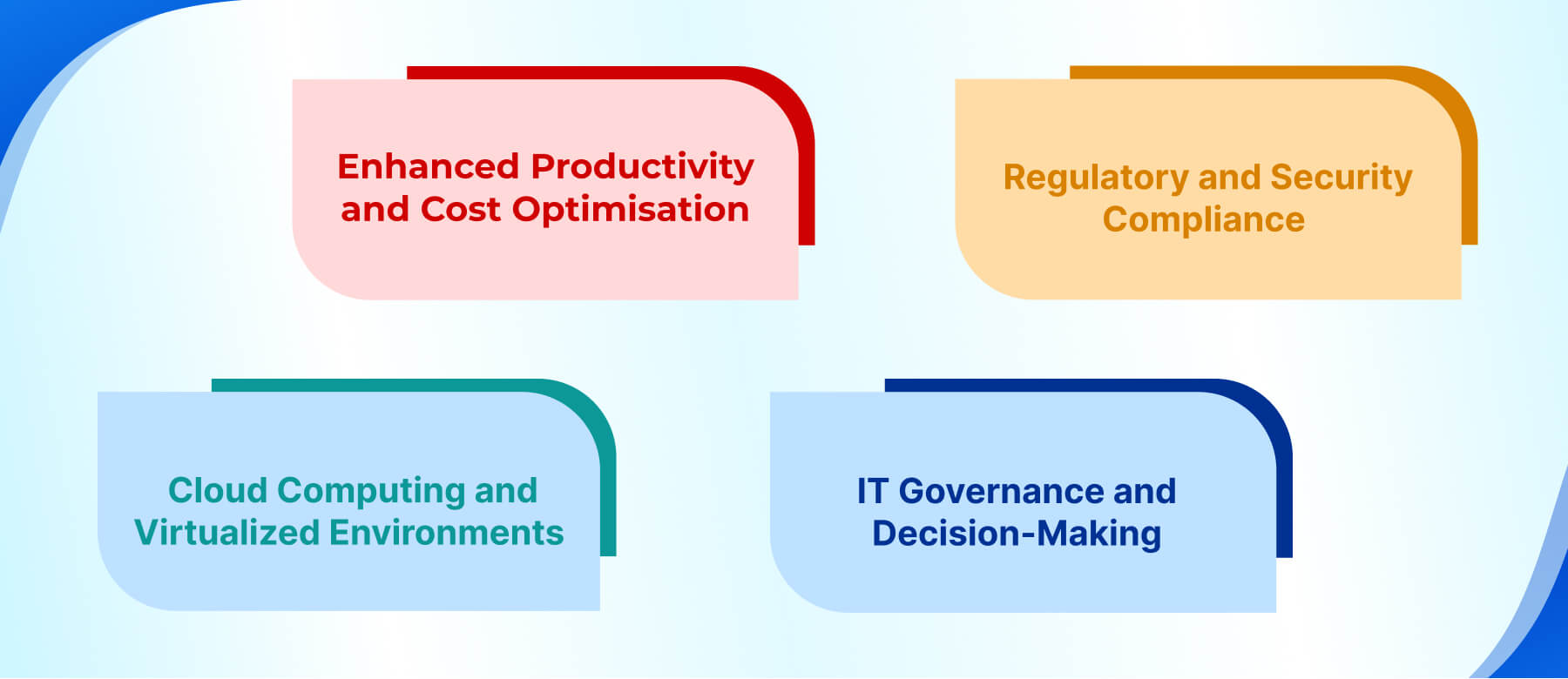 Enhanced Productivity and Cost Optimisation
Businesses are using IT Asset Management Systems more and more to increase productivity and cut costs. These solutions enable managing IT assets effectively, guarantee optimal utilisation, lower maintenance and procurement expenses, and prevent irrational purchases or licensing infractions. IT Asset Management System boosts operational effectiveness and lowers costs by automating operations and optimising workflows.
Regulatory and Security Compliance
The adoption of the IT Asset Management System is being driven by compliance requirements, such as software licensing audits and data privacy rules. By identifying flaws or unauthorised software, these solutions assist organisations in ensuring compliance with licensing agreements, monitoring software usage, and maintaining data security.
Cloud Computing and Virtualized Environments 
The development of these technologies has brought up new challenges in managing IT assets. Organisations may track and manage cloud-based assets, virtual machines, and software licences deployed in virtual environments with the help of an Asset Management System.
IT Governance and Decision-Making 
Effective IT asset management plays a crucial role in establishing governance frameworks by providing accurate asset information, facilitating budget planning, and supporting decision-making processes.
Global IT Asset Management System Market Segmentation Analysis
The Global Asset Management IT Solution Market is segmented based on Type, Deployment Type, Enterprise Size, and Geography. This segmentation aids in comprehending the market dynamics and meeting various customer needs.
Type: Hardware and software are the market's primary two segments. The software segment controls the market because it provides services for the specific management and tracking of software assets, including licence management, software deployment, compliance monitoring, and optimisation.
Application: The market is segmented into the following categories: government; pharmaceutical and medical; banking and finance; transportation; energy; and others. Due to the reliance of financial institutions on IT infrastructure and software systems for their operations, the "Bank and Finance" segment, among these, frequently holds a significant share of the market.
Geography: Geographical regions include North America, Europe, Asia Pacific, Latin America, and the Middle East & Africa in the IT Asset Management System Market. North America holds a significant share of the global industry because of its substantial investment in IT infrastructure, regulatory compliance requirements, and technical improvements. There is also significant growth potential in Europe and Asia-Pacific.
Barriers and Challenges in IT Asset Management System Implementation
Despite the increasing IT Asset Management Industry Growth, organisations may encounter several barriers and challenges when implementing IT Asset Management Systems.
Complexity of Implementation: Deploying IT Asset Management System needs careful planning, system integration, and data migration. Organisations may have trouble deploying these solutions in complicated IT environments, which can restrain adoption.
Lack of Knowledge: Some businesses may be unaware of the advantages of IT Asset Management Systems or not understand how to install them and calculate their potential return on investment. Initiatives for education and awareness are required to get through these obstacles and highlight the value of IT Asset Management Systems.
Privacy and Security Problems: The collection and management of sensitive asset-related data by IT Asset Management Systems can raise privacy and security issues. Organisations must ensure strong security measures are in place to safeguard data privacy and comply with rules.
What IT Asset Management Market Report Highlights?
A recent study by Verified Market Research titled "Global IT Asset Management System Market Insight, Forecast To 2031" evaluated the key aspects influencing its development. The Global IT Asset Management System Market report is an excellent, reliable, and comprehensive study to give participants useful information for making wise business decisions.
Aspects
Details
Market Size By 2031
USD 3.5 billion
Growth Rate
CAGR of 11.1%
Forecast period
2021 – 2031
Report Pages
268
By Component
By Deployment Model
By Enterprise Size
By Industry Vertical

IT and Telecom
Manufacturing
BFSI
Healthcare and Life Science
Government and Public Sector
Education
Energy and Utility
Others

By Region

North America (U.S., Canada)
Europe (Germany, UK, France, Italy, Spain, Rest of Europe)
Asia-Pacific (China, Japan, India, Australia, South Korea,
Rest of Asia-Pacific)
LAMEA (Latin America, Middle East, Africa)

Key Market Players
Oracle Corp, Microsoft Corporation, Snow Software AB, HP Inc.,
IBM Corporation, Flexera Software LLC, Aspera Technologies Inc.,
Dell Inc., ServiceNow Inc., BMC Software Inc.
The IT Asset Management System Market is experiencing steady growth driven by the need for productivity improvement, cost optimization, and regulatory compliance. Organizations across various industries are adopting IT Asset Management Systems to effectively manage their assets, ensure operational efficiency, and align IT with business goals.
Although there are implementation challenges and security concerns, the market offers significant opportunities for vendors and investors. With ongoing technological advancements and digital transformation initiatives, the global IT Asset Management System Market is expected to expand further in the coming years.