In the HVAC industry, efficiency revolves around the availability of information and with good planning and excellent software. The software can keep track of all the moving components in your company. The main goal of HVAC asset management is information management, improved customer service, and improved internal communication.
Implementing asset management into your HVAC company can be a great way to improve accountability and productivity. This software offers a collection of data that can be conveniently saved and viewed from both the office and the field to improve your workflow.
Having the right software in place is a crucial aspect of managing assets in any HVAC business. While there is a wide range of software available in the market, you must know what to look for, or else you are making life much more difficult for you and your team. So, this is where you should know some key features to look into when selecting the HVAC asset management software!
Features to Look in HVAC Asset Management Software
Asset Maintenance Scheduling
An asset management system allows HVAC businesses to schedule preventive maintenance tasks for each asset. A system can automatically generate maintenance schedules based on the asset's usage, age, and operating conditions. With this feature, businesses can optimise the asset's lifespan and minimise the chances of equipment failure.
Asset Performance Analytics
The system has asset performance analytics feature that help HVAC companies to see analytics on asset performance, analyse data, and generate asset reports. They can easily detect the major issues like inefficient systems and any equipment part that need replacement.
This system alerts HVAC businesses in real-time when assets require attention, such as when an asset needs calibration or service. This function enables businesses to react quickly to significant asset issues. In addition, it will minimize the possibility of equipment failures and raise client satisfaction.
Integration with Other Systems
Also ensure that you can integrate an asset management system with other programmes like accounting and business resource planning. (ERP). This feature ensure that the transfer of data will be optimized, and data accuracy will increase. This will help businesses can effectively manage their assets and finances with the aid of this function.
HVAC businesses can create and manage work orders for technicians with the help of work order management feature. This means assigning task, monitoring progress, and completion times. With the help of this feature, businesses can better monitor and manage the work order procedure.
People can obtain important information at any time and from any location with the help of mobile access feature. This feature aids companies in increasing operational effectiveness, response time, downtime, and customer satisfaction.
Also Read:Benefits of Asset Management System in Healthcare Sector
Benefits of HVAC Asset Management Software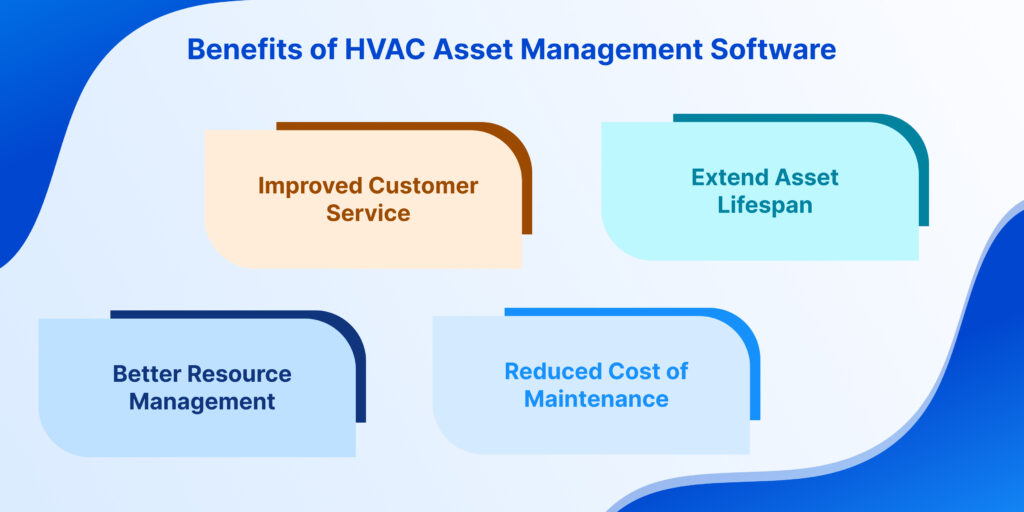 Improved Customer Service
Asset management software helps HVAC companies to respond quickly and efficiently to customer queries that improve customer service. With real-time alerts and asset tracking, it helps companies to dispatch technicians promptly and ensure that the right assets are delivered at the right location.
With asset management system, it helps HVAC companies to extend the asset lifespan. This system ensures that assets are well-maintained and serviced regularly.
Better Resource Management
An Asset tracking system provides proper insights into asset inventory to HVAC businesses, enabling them to optimise their resource allocation. Companies can identify underused and overused assets that help adjust their resource allocation accordingly.
Reduced Cost of Maintenance
Companies are able to reduce the cost of maintenance by scheduling maintenance tasks and tracking asset performance. They can easily detect issues or problems early and address them before they turn into major problems.
Conclusion
Now, it's clear that HVAC businesses require asset management tools to boost productivity and streamline operations. The right AMS with the appropriate features can help them enhance customer service, reduce costs, and streamline operations.
Genic Assets offers the best Asset tracking system for HVAC companies that improve asset management's accuracy, efficiency, and transparency. You can schedule a free trial lesson if you want to learn more about the software.